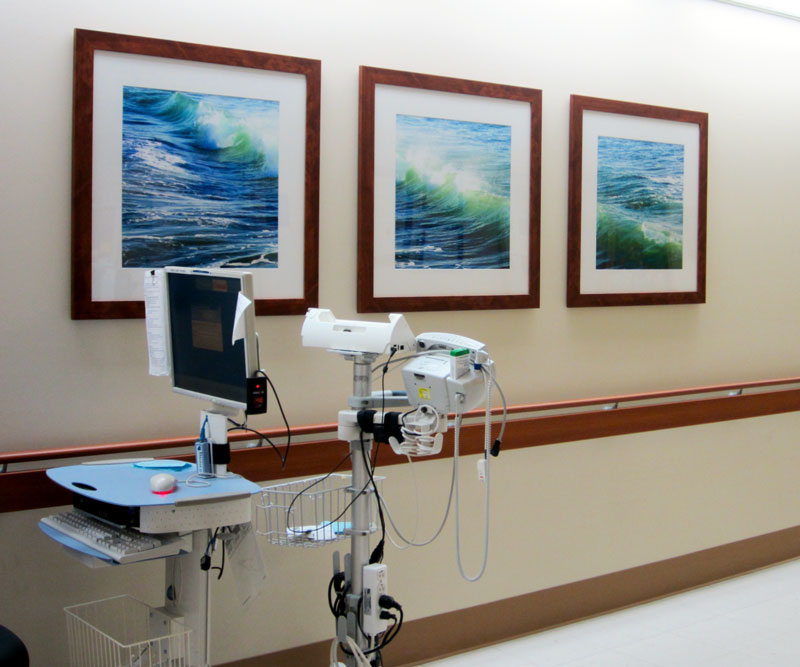 Three framed photographs, size approximately 30″ x 30″ each, by Joy Doherty of Organic Imagery, at Scripps Memorial Hospital Encinitas, CA. This installation was one of the many hospital projects of Barbara Markoff, an art consultant from San Diego, CA. She is also the owner of Artrageous! Gallery.
An Article about The Healing Power of ART
By Renée Phillips
If you are an artist have you ever considered placing your art in healthcare facilities? There are many different venues such as general hospitals, senior residences, acute care hospitals, surgery centers, medical office buildings, physicians' offices, rehabilitation centers, and many similar locales that are integrating art into their overall design.
If you are interested in pursuing this market you will want to read an article that offers 10 reasons why artists should consider placing their art in these locations. You can read the article
here
.
Every day another article appears on a major website applauding the benefits of art in healing environments. For example, according to NBC News, 2014, a growing number of health care facilities have arts programs, including musical performances, healing gardens and art classes, and permanent, public art displays — such as paintings and murals — were the most prevalent. I have written several artists on the subject which you can see on
The Healing Power of ART & ARTISTS
website.